Women's Programs for Tea's Church Events and Retreats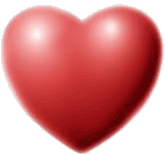 Love one another (John 15:12)
7 programs to choose from for your next Women's  event!
Click here for Jennifer's printable Faith One Sheet for groups deciding to bring in Jennifer.
Are you on the path of your Life Purpose, or just making it through each day? Do you know your gifts and purpose? What's holding you back? There are three (3) steps you can take to move forward faster toward dreaming again, hurdling barriers to your goals, and fulfilling what God has you here to do! It takes Vision, Plans and Action. What do you still want to be, do and have in your lifetime? If you could do anything and knew you wouldn't fail, what would you do? Bring in Jennifer for a one hour program to get your group more focused on their next steps! One hour program also available on CD and as a download here:

Running Toward Your Life Purpose – CD $20

Download – $15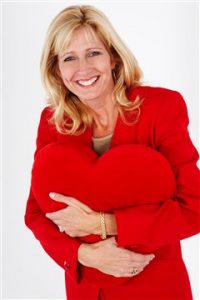 Getting To The Heart of It!
You are unique. Your talents, abilities and gifts are specific to the core of who you are so that you might fulfill your purpose for your life. What are your gifts? What would you do if you knew you wouldn't fail? What do you think you are you being called to do? Take a look at how to get clear on the path to get there. What do you still need to "work out" before you can move forward? Is anything holding you back? Today, seek your gifts, your purpose and get on the path leading you there!
Available as a one hour presentation. A complete 3 hour Spiritual Gifts class with spiritual gifts test is also available for groups of any size. Just call for details.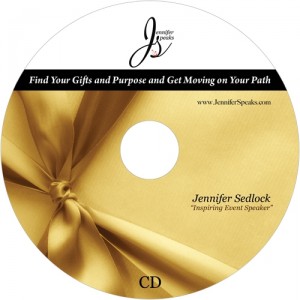 Find Your Gifts and Purpose and Get Moving on Your Path! – CD $20

Download – $15

Where are you going? Are you on your path to your Life Purpose? There is nothing more satisfying than knowing you are right on path and at the right time… fulfilling your destiny. When you KNOW that you are exactly where you are supposed to be. You have a plan for your life (Jeremiah 29:11) and the promise that if you seek, you will find it! How do you find your purpose? Where do you start? We will discuss three steps for Seeking, Serving and Celebrating. There is no greater glory than walking in His ways, light and strength. Bring in Jennifer for this one hour program! Also available on CD and download here: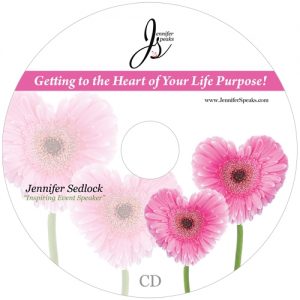 Getting to the Heart of Your Life Purpose – CD $20

Download – $15

We all have gifts and strengths that make up our personality and impact our prayer and worship styles. There are four areas where the differences might have an impact and we will cover how. Learn why some people don't mind praying out loud in any sized groups and others prefer more personal intimate settings, why some people pray in big picture prayers and others in more detail, some about the future, and others more about the present.Learn your preferences and be satisfied with how you are vs. others – God made us this way! Bring Jennifer in for this one hour program or listen to the CD or download available here: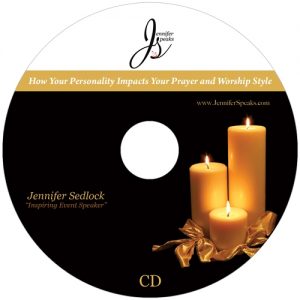 How Your Personality Impacts Your Prayer and Worship Style – CD $20

Download– $15

Are you juggling and balancing so much that you have no time to think about your purpose? Do you ever wonder how you will get everything done in a day? Welcome to maintaining our sanity in the busy life of a mom! We will focus on purpose, passion and priorities. 1. Starting each day right. 2. Stop comparing and start sharing. 3. Keeping a strong focus during a chaotic day ("Where was that list? – I just had it 5 minutes ago! And when did I get this syrup stain?") Laugh your way to more joy while living on purpose. Bring in Jennifer for a one hour program!
Also available on CD and download here: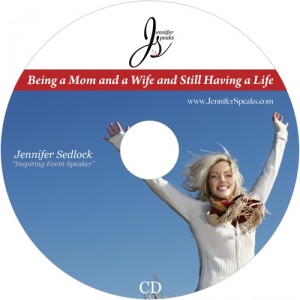 Being a Mom and a Wife and Still Having a Life! – CD $20

Download – $15

Moving Forward in Faith addresses three areas where we need faith: in the wilderness, in our calling and in our community.Have you ever felt lost and couldn't see the path ahead amidst your circumstances (Faith in the Wilderness)? Have you ever thought that you were missing your true calling or not using all your talents, skills and abilities to their fullest (Faith in your Calling)? Have you found a group of people to share life with (Faith in community)? Hear inspiring stories, clarity and solutions of trust and belief to move forward in faith and to choose faith daily. Bring in Jennifer for this hour program. Also available here on CD and download: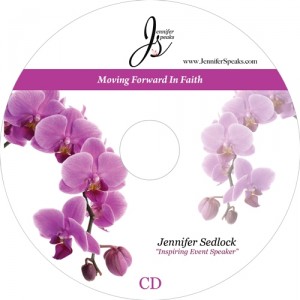 Moving Forward in Faith – CD $20

Download – $15

If you could experience your ideal holiday season, what would that look like? How can you keep Christ as the center of all the activities of the holiday season? Learn how to align your "to do" lists with God's callings and purpose for you. Find great tips and ideas for saying "yes" and "no" to various activities. Schedule yourself according to your gifts, purpose, priorities and personality! Create ways to experience more joy in the season while simplifying your life!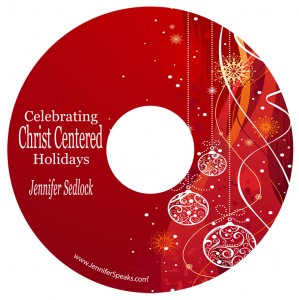 Celebrating Christ Centered Holidays – CD $20

Download – $15

What are others saying about Jennifer's programs?
1. ~ Diane Brown, Maranatha, Moms of all Seasons Event:
"Jennifer, Thanks again for coming and speaking to our group! You were a big hit! We were wondering if you'd be interested in returning next year?"
2. ~ Beth Clifford, Silver Creek Community Church:
"Jennifer's programs are incredible! She made a big impact on the women of Silver Creek Community Church. Thank you for sharing your talents and heart with us. Our church survey showed 100% satisfaction with your message."
3. ~ Amy Garcia, Grace Church of Glendora:
"Jennifer, Thank you so much for speaking at our ladies holiday event at Grace Church with over 200 women attending. Every review I heard was positive and people left more prepared to tackle the holidays in the right frame of mind. Thank you for bringing your encouragement, passion and God given gifts of organization and faith, to us. Your words surely have made a difference in many lives."
Do You have an Attitude of Gratitude?
Link to Amazon to purchase "Choosing Gratitude" http://tinyurl.com/c6cwofz
httpvh://www.youtube.com/watch?v=LszOe3SZlNo
Listen here for a book recommendation on Choosing Gratitude, then click on link above to purchase it for yourself or as a gift!

Conversations on Faith: Book ($5.00)

Conversations on Faith, 18 Authors.Jennifer Sedlock joins Dr. Robert Schuller, Dave Dravecky and Ann Jillian as featured authors with 14 others in this collection of inspiring stories on Faith! Press Release
Contact Jennifer today for your next event!
Retreat

Small group leadership training

Women's ministry event

Conference

Mom's group event

Parent education program

!
Ministry Donation is available!
Your donation is tax deductible!

Home based Programs during COVID

(topics available upon request)
From Surviving COVID in 2020 to Thriving in 2021!
A Two-Day Women's Retreat
By New Heart Ministries & Saving Faith Ministries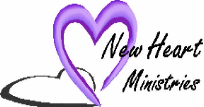 Friday April 23rd (4-10) & Saturday 24th, 2021 (9-4)
"Powerful, Pampering, and Purposeful"
Two Session Speakers, Five total sessions!
   
Linda Fichtelman       Jennifer Sedlock
Where: Home (4700 square foot home with high ceilings and lots of space to socially distance with an acre to roam):  Three meeting rooms, three meals areas, 3 bathrooms available with COVID cleanup and paper towels, sanitizers.
Address upon registration.
Cost: Option 1 – Retreat $59 includes 3 meals, snacks, journal, and more for 2 days!
Cost: Option 2 – $99 includes all above plus overnight (6 women max).
* Locals return at 8:30 for breakfast!
Session 1 – Whining, Complaining, Laziness and COVID Excuses
Session 2 – Shining the Light on Deceptions and Darkness!
Session 3 – It's a New Day!
Session 4 – Facing COVID with a Heart for God (FACE)
Session 5 – Surprise
Included: Three meals, snacks, journals, gift, and surprises!
Bring your whines, worries and wishes! Prepare to be pampered when you walk in the door!

To register:
simply click on the link below. Be sure to give us your phone number and we will send confirmation email.
Register ASAP. This will fill up fast.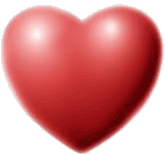 Love one another (John 15:12)