Happy New Year!
Are you refreshed?
How is your January going? Did you hit Refresh yet?
Book Recommendation for parenting below!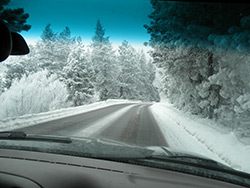 I love a fresh crisp morning when the whole day is ahead of you and anything can happen. I also love January, where not only the air is crisp, but our brains are full of fresh starts and renewed energy from the restful (or not so restful depending on your holidays) weeks of the Christmas season and ringing in the New Year. Kids were home on vacation, baking, wrapping, seeing loved ones, calling friends, opening cards from friends and promising myself to call them within a month (if I haven't called you yet, you are on my list), and all that "taking a break" at the end of the year can entail. (This photo is me driving up toward Bogus Basin in Boise to do some sledding).

Then comes January. What will we do differently this year? What will be the focus? Will we change something in our habits? Our schedule? Our looks? I see it all around as people make changes and commitments in January - mostly for better. Changes to be a better us, or to be more organized, or more of something. Then we need that warning when "reality hits" and we are faced with falling back into old patterns. Or not! Just like we have a "refresh" button on our computers, we have one in January and other "firsts" - of the month, of a crisis, of a change. Many times we stop and "restart" with a new direction.

So, as I've been thinking about this I realize for me, having 3 children in grade and Jr. High school, there are four "pause buttons" and "restarts" in the year with each changing season and semester of kids school years. My schedule of events can change, kids teams and activities change our evening and afternoon schedules, and every summer we shift into higher "play" mode so I choose to shift what I commit to do for work (as I'd rather play!) in the summers. August is yet another big shift back to school and more work focus for me. It amazes me that we can create what we want in our work and lives, if we focus on the priorities and shift our choices even a little, or a lot. Even if only, "for a season", "for a reason", or talking ourselves into something. Even if we work full time, not at all, or when we find ourselves "in between" careers. We have choices and new starts.

So how is your January going?

What have you begun that you weren't doing last year? What are your goals? What might you consider trying that you couldn't fit into your schedule last year?

What is "Good, Better, and Best" for you?

Three things I will focus on this year are: 1. To network more (ie: hangout with groups and girlfriends that uplift who I am and what I like to do, 2. To "social media" more (yes, I'm finally going to do that more for those of you who know me well and wonder why I haven't already!) and 3. To write and send encouraging newsletters monthly (yes, I'm making a public commitment here). Most of the time, it is better to tell people when you set a goal, so that you have accountability partners to remind you!

Is there anything you need to commit to, and then tell someone?
Remember, even if you don't accomplish all that you set out to do - some is better than none. Sometimes, good enough, is just good enough. For example, last year I set out to learn how to do Webinars and set a goal to do 12 of them, one each month. I only ended up recording two. By March my priorities changed, and that was that. But to prove that some is better than none, I had been doing quarterly goals for years, just never taught about it. Now it was done and recorded and usable for others. And, I learned a lot about performing and recording Webinars. So even though I didn't hit my personal goal, it was still a good goal and had some good results. Good enough can be good enough.

To Summarize - Be refreshed with the newness of January. Jot down your goals, tell someone and get started by planning and executing them. Go for your goals, but give yourself a realistic break if you need it too! If it changes, let that be okay, as long as it is your choice or you know why! Hit "refresh" and start over!

Happy New Year!

Hit "Refresh" and

Be Refreshing!
Blessings to You! Jennifer
For the quarterly goal setting webinar for $10 go to - http://www.jenniferspeaks.com/2012-webinars/
For the free forms to go along with the webinar - Strategic planning, Accomplishments and Mastermind Meetings - scroll down page: http://www.jenniferspeaks.com/about-jennifer/

Book Recommendation for January:
As I struggle to get my own children to listen to me some days, I found a GREAT book to help with gaining respect, obedience and how to get them to do it the first time you ask! Try it! http://tinyurl.com/app8kpq
Jennifer Sedlock is a professional speaker, author, consultant, wife and mother of 3. She provides motivational keynotes and programs to organizations, associations and retreats. With a masterís degree in Organization Development and a management career prior, she gets bottom line results while entertaining and encouraging. Jennifer loves to help people move toward their dreams through understanding their personality style, planning out their goals, and making sure they are on the right path to their ultimate journey. Visit her online at http://www.jenniferspeaks.com/.
Copyright 2009, For copyright, contact and reprint information, please send an email to: jennifer@jenniferspeaks.com.