Winning Can Be Such
Sweet Victory!
Winning Can Be Such Sweet Victory!
Are You

Running

Toward Your Next Job?
(or know someone else who is?)

Another Webinar From Jennifer!
Following up - How did you do on your Quarterly Goals?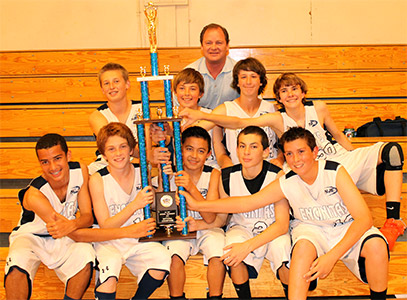 Do you remember a time when winning was such sweet victory? Can you still taste it when you think about that day? Well I just observed one as a parent and it was just as sweet as some of my own. My oldest son is 13 now in 7th grade and is fortunately already 6'1". Fortunate for basketball anyway. His National Junior Basketball 7th grade "All Net" travel team just won the National Championships title! After 8 months of hard work together. multiple tournaments out of town, a season of games, sectionals and then 5 games over the finals weekend, they took home first place with big smiles. What an excitement for these boys and the exceptional coach, Bob Gallagher. Enjoy the photo and recall a sweet day in your past. Nick, Christian, Stephen, Aidan, Andrew, Mikey, JJ, Ted and Alex won't forget this day soon. Winning can be a lot of fun - even if it isn't everything. Losses make the wins sweeter and wins makes the losses a lesson and motivation to try harder next time. What are you working on for a win? May you have a sweet victory again real soon!

Are You

Running

Toward Your Next Job?
(or know someone else who is?)

Running
Toward Your Next Job is about planning the path to get to your Dream Job whether you are working now or not. There are three tools and three steps to getting there: Vision, Plans, Action! If you don't have all 3 then you won't get there! Where are you Getting Stuck? Which step is holding you back? Come join us and get "unstuck". We will discover the hurdles to overcome and what roadblocks are in the way for you and you'll make a plan to get over and around them! Three tools to change your direction and results. If you know someone else who needs this more than you - feel free to forward this to them too!
Another Webinar From Jennifer! Running Toward Your Next Job!


This Webinar is pre-recorded is available at the new page: http://www.jenniferspeaks.com/2012-webinars/.

If you aren't sure about whether to watch the Webinar, check out my one minute video on You Tube Running Toward Your Next Job! to hear an overview. But WAIT, don't get lost on You Tube watching videos....it has happened to others! Come back here to link to the webinar page!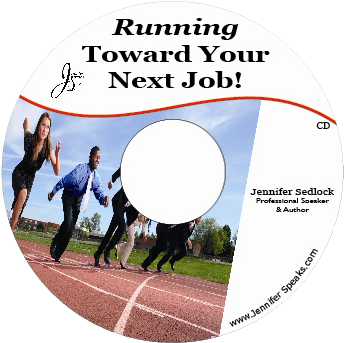 Following up - How did you do on Your Quarterly Goals?

In January I sent you all an invitation to a free webinar on "Setting Annual and Quarterly Goals (and Mastermind Meetings). If you didn't achieve what you set out to do in January through March and didn't watch that - you might go do it now! If you did watch it and set quarterly goals, how did you do? What did you achieve and what did you not? Jot down your accomplishments on the "Accomplishments Page" (grab it on the lower left of my "About Jennifer" page on the website if you didn't - all three forms are there for printing). Next set your Quarterly Goals for April - June!

I personally accomplished two webinars and created a new webinar page on my site, 5 videos to use from my flip camera uploaded to You tube (one is linked in next section), signed up on social media sites and set up fan page (you know me if you know I loathe getting on there...), set up 2 new bureau relationships, and went to a couple excellent NSA meetings (Thank you President, Jeff Rendel). What I didn't accomplish (thus transfer to Q2) is getting my social media URL's onto my website, launching a new program where I will be the host (vs. a private or corporate event...more soon on that). I set several goals such as 3 more webinars (any topics you'd like to see on webinar from my topics ??? - your input might sway me!),
and 5 calls per day (thank you Ed Rigsbee of NSA).
That and a whole lot of basketball games on my agenda! Summer is looking fun as I just booked some beach homes for our 21 family members coming from Michigan (personal quarterly goals sheet). So that's my update. What's yours?
Have a wonderful Easter Weekend!
Jennifer
Speaking to the head and

the heart!
Interested in having Jennifer speak to your group?
Click here
.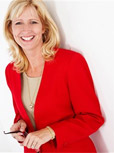 Jennifer Sedlock is a professional speaker, author, consultant, wife and mother of 3. She provides motivational keynotes and programs to organizations, associations and retreats. With a masterís degree in Organization Development and a management career prior, she gets bottom line results while entertaining and encouraging. Jennifer loves to help people move toward their dreams through understanding their personality style, planning out their goals, and making sure they are on the right path to their ultimate journey. Visit her online at http://www.jenniferspeaks.com/.
To see Jenniferís programs Click here.
For information about a Myers-Briggs individual coaching or training sessions Click here.
To see Jenniferís library of Books, CDís and DVDís Click here.
Copyright 2009, For copyright, contact and reprint information, please send an email to: jennifer@jenniferspeaks.com.